In 1975, I had just finished highschool and was looking for something to do. My school-friend, Kim Ryrie, played me a record called "Switched on Bach" which was recorded entirely using the Moog synthesiser. I thought this was really cool - electronic music obviously had great potential.

The record sleeve had a photo of the Moog synthesiser; rack after rack of electronic modules with hundreds of patchleads and knobs that all has to be set just right to make it happen.

Kim was very keen to develop a better synthesiser, and knowing my interest in electronics, he suggested we join forces. I had long been interested in computers - I built my first computer when I was about 12 - and it was obvious to me that combining digital technology with music synthesis was the way to go. A year or so later, we met Tony Furse, an engineer who was also working on digital music synthesis. Tony introduced us to these new-fangled things called microprocessors (the personal computer was still a decade away).

After four years of working around the clock, we had the first working prototype of what was to revolutionise the music industry.

Priced at between $50,000 and $100,000 each, over 300 "Fairlights" were sold world-wide.

I have digitised the majority of the contents of the box that sat under my desk during my 14 years with Fairlight. This includes some photographs of Fairlight CMI customers with their new toy, the Fairlight factory and staff, and a lot of early CMI music compositions and performances, mainly from the eighties. This will be of great interest to synthesiser or electronic music historians.

They are available here:
The Gallery My personal Fairlight photo gallery.
Audio archives My personal Fairlight audio archives.

For more detail of the Fairlight story, see:
Fairlight The Whole Story Audio Media magazine, January 1996
The Fun of the Fairlight Sound on Sound Magazine April 1999
Fairlight ESP See what Fairlight is up to today.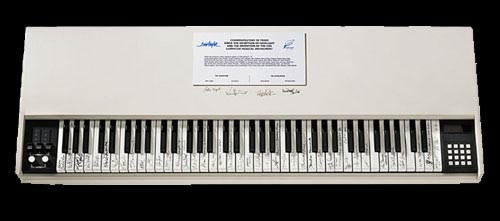 In 2006 Fairlight donated a CMI keyboard to the human rights organisation "Witness" who auctioned it and raised $100,000. Why was it so valuable? They keys had been signed by some of the artists who had used it:
Alan Parsons, Annie Lennox, Barry Gibb, Billy Gibbons, Bono, Boris Blank, Brian Eno, Brian Wilson, Chick Corea, Daryl Hall, David Bowie, David Gilmour, David Hirschfelder, Elvis Costello, Geoff Downes, Hans Zimmer, Herbie Hancock, Howard Jones, Iva Davies, Jan Hammer, Jean Michel Jarre, Jim Kerr, JJ Jeczalik, John Paul Jones, Joni Mitchell, Kate Bush, Keith Emerson, Laurie Anderson, Lindsey Buckingham, Mark Knopfler, Mark Mothersbaugh, Midge Ure, Mike Oldfield, Mike Rutherford, Nick Rhodes, Peter Gabriel,Roland Orzabal, Sir George Martin, Steve Winwood, Stevie Wonder, Stuart Copeland, Thomas Dolby, Todd Rundgren, Trevor Horn.
This page last updated by Peter Vogel 1 June 2008